Tồng hợp đề thi thử tiếng Anh chương trình mới kho bạc, công chức thuế 2021- thầy Cukcu- Tâm Hồ – đề số 2. Bộ sưu tập những bài viết hay và đề thi kho bạc, thuế theo chương trình mới giúp các bạn  ôn thi thuế và kho bạc nhà nước 2021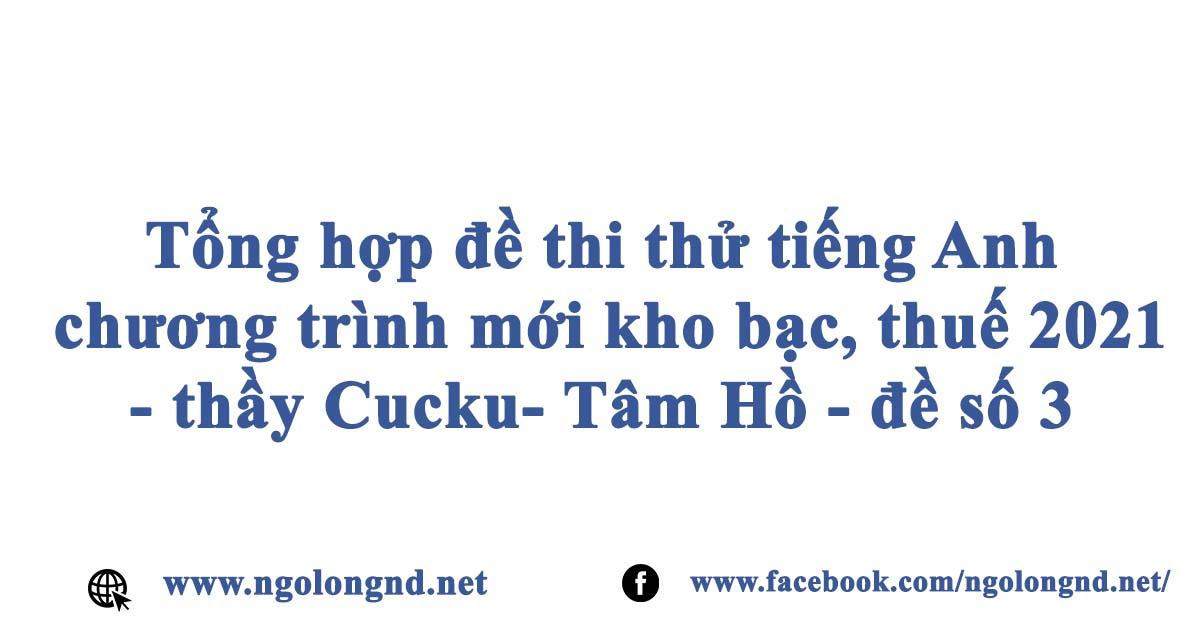 ĐỀ 3 thầy cucku
Phần 1: Trắc nghiệm
Having been delayed by heavy traffic, ………………………
it was difficult for her to arrive on time B. her being late was intolerable
it was impossible for her to arrive on time D. she was unable to arrive on time
She regretfully told him that …………………….. .
she has come to the party B. she won't come to the party
she hadn't come to the party D. she has to go to the party
The robbers attacked the owner of the house …………………….. .
so that they would appear with the expensive painting
and disappeared with the expensive painting
but they appeared with the expensive painting
so they disappeared with the expensive painting
He agreed to sign the contract …………………….. .
so he didn't know much about that company
because he didn't know much about that company's director
although he didn't know much about that company
in spite he knew much about it
There were two small rooms in the beach house,…………………….. served as a kitchen.
the smallest of which ` B. smallest of that
the smaller of which D. the smaller of them             
…………………….. , they would have had what they wanted.
Had they arrived at the fair early
Supposing they were arriving at the fair early
Unless they arrived at the fair early enough
If they arrived at the fair early
John contributed fifty dollars, but he wishes he could contribute …………………….. .
one other fifty dollars B. more fifty dollars      
another fifty D. the same amount also          
John's score on the test is the highest in the class. He …………………….. .
should have studied all the time B. must have studied very hard
should study very hard D. must have to study well                
The road was…………………….. .
too slippery that we can't drive fast B. too slippery for us to drive fast
so slippery that we drove fast D. so slippery for us to drive fast                 
Alexander Fleming,.………………………, received the Nobel Prize in 1945.
that discovered penicillin B. who discovered penicillin
which discovered penicillin D. he discovered penicillin
The doctor advised Robert .………………………to lose weight.
to take more exercise so that he could B. to take more exercise if he wanted
that he took more exercise D. that he should take more exercise in order that
When you arrived back at the hotel, …………………….. ?
were you noticing what time it was B. did you notice what time was it
did you notice what time it was D. were you noticing what time was it
Do you know the boy…………………….. at the party last week?
we talked about B. about him we talked
we talked about him D. who we talked about him
I haven't got…………………….. that English book.
much money of buying B. some money to buy   
no money to buy D. any money to buy               
They are living in a house…………………….. .
that built in 1930 B. that was built in 1930
in 1930 that was built D. that was building in 1930
Taking exercise …………………….. .
is good health for you B. is good for your healthy
is a good health for you D. is good for your health
He went to the library…………………….. .
so that to borrow a book B. to borrowing a book
so as to borrow a book D. in order that borrow a book
Tom asked me …………………….. .
if was I having a good time the previous weekend
whether I have had a good time the previous weekend
if would I have a good time the previous weekend
whether I had had a good time the previous weekend
Football is thought ……………………… in the world
to play the most popular sport B. to be the most popular sport
the most popular sport D. is the most popular sport
If I had known you would come, ………………………
I would not have waited for you B. I would have waited for you
I will wait for you D. I would wait for you
Don't worry…………me. I'll be fine.
about B. for                    C. into                  D. with
A: Why are you mad?
B: I dislike …………by my first name.
me called B. being called C. calling me         D. you call me
The main post office is not far…………the library.
to           B. from                 C. away                D. with
The fire alarm went off when the smoke rose. In this sentence, "went off" means…………
exploded B. burned             C. shouted             D. rang
Tan is excited…………going to the party.
about B. in                     C. at                      D. with
We…………in this town for a long time. We…………here 16 years ago.
are / came B. were / came C. have been/came D. had been / come
…………is the beach? – Only five minutes' walk.
How far B. How long          C. How often        D. How wide
Just keep on …………what you like.
done B. did                   C. do                     D. doing
Are you looking forward …………on your vacation?
at going B. to going            C. to go                 D. for going
I would like…………somewhere different for a change.
go B. to have gone     C. going                D.  to go
Phần 2: Điền từ thích hợp vào chỗ trống.
PERSONAL SPACE
More and more people live in large cities these days and this means that it is becoming more and more difficult to find space and time for ourselves. But for many people, personal privacy is more important. In many houses, a few minutes in the bath room is all the privacy that is (31)_________ .
Teenagers especially need their own personal space at home where they can feel relaxed and private, But of course, not all teenagers are (32)_________ enough to have a room of their own. Where space is short, they often have to (33)_________  a bedroom with a brother or sister. It's a good (34)_________ for them to have a special area or corner of the room to (35)_________ their own. It's especially important for young people to have some where to (36)_________ their personal things. This may or may not be a tidy place and it is not a good ideas for parents to try to tell teenagers how to (37)_________ their space as this is (38)_________ to lead to arguments. Parents can, however, (39)_________ sure that there are enough storage spaces such as shelves, cupboards and boxes. This will (40)_________ the teenager to keep their space tidy if they want to.
A. confident B. available C. general              D. average
A. dizzy B. early C. lucky                D. happy
A. separate B. share C. divide               D. join
A. sense B. opinion C. idea                  D. thought
A. mind B. call C. say                   D. tell
A. belong B. save C. support             D. keep
A. organize B. repair C. operate             D. review
A. really B. quickly C. actually            D. likely
A. find B. make C. get                    D. put
A. afford B. let                     C. allow                D. set
Phần 3: Viết tiếp câu không thay đổi nghĩa.
His cellphone was made in China.
He………………………………………………………………………………
"I advised you to take a rest" The doctor said.
 "You'd…………………………………………………………………………..      
If you don't have a rest, you really will be ill.
            Unless…………………………………………………………………………..      
It was an interesting play. What……………………………………………………………………………
The news was so wonderful that she decided to have a celebration.
 It was ………………………………………………………………………
Phần 4: Xây dựng câu.
You / ever / speak / film star?
………………………………………………………………………………………..
Lan / not / have / holiday / so far this year.
………………………………………………………………………………………..
Tom / be / in / love / Mary / / he / 18 years old.
………………………………………………………………………………………..
When / he / 2 years old / begin / practice / piano / every day.
………………………………………………………………………………………..
When / he / young / often / imagine / become / famous pianist.
………………………………………………………………………………………..
Phần 5: Trả lời câu hỏi.
Sequoyah was a young Cherokee Indian, son of a white trader and an Indian woman. At an early age, he became fascinated by "the talking leaf", an expression that he used to describe the white man's written records. Although many believed this "talking leaf" to be the gift from the Great Spirit, Sequoyah refused to accept that theory. Like other Indians of the period, he was illiterate but his determination to change the situation led to the invention of a unique 86-character alphabet based on the sound patterns that he heard.
His family and friends thought him mad, but while recovering from a hunting accident, he diligently and independently set out to create a form of communication for his own people as well as for other Indians. In 1821, after twelve years of work, he had successfully developed a written language that would enable thousands of Indians to read and write.
Sequoyah's desire to preserve words and events for later generations has caused him to be remembered among the important inventors. The giant redwood trees of California, call "sequoias" in his honour, will further imprint his name in history.
What is the most important reason that Sequoyah will be remembered?
California redwoods were named in his honour.
He was illiterate.
He created a unique alphabet.
He recovered from his madness and helped mankind.
How did Sequoyah's family react to his idea of developing his own "talking leaf"?
They arranged for his hunting accident.
They thought he was crazy.
They decided to help him.
They asked him to teach them to read and write.
What caused Sequoyah to develop his alphabet?
People were writing things about him that he couldn't read.
He wanted to become famous.
After his hunting accident, he needs something to keep him busy.
He wanted the history of his people preserved for future generations.
How would you describe Sequoyah?
determined B. mad C. backwards        D. gentle
Which of the following is not true?
Sequoyah developed a form of writing with the help of the Cherokee tribe.
Sequoyah was a very clever young man.
Sequoyah spent twelve years developing his alphabet.
Sequoyah was honoured by having some named trees after him.
Download đề thi